Tomorrow is the last day of August – are you kidding me? Can you believe there are only four months left in 2018? A part of me looks back at the posts from the past eight months and some things seem like they were just yesterday while other things seem like they happened eons ago. I suppose that soon enough I'll be looking back on this post and thinking the same thing(s)…
Books I Read
Crazy Rich Asians by Kevin Kwan – This was a re-read for me ahead of seeing the movie but it was just as good as the first read! The story is compelling, funny, romantic and just hands down a really good read. I thoroughly enjoyed it and that means when I finished it, I was reaching for…
China Rich Girlfriend by Kevin Kwan – The second book in the trilogy; taking place about 2-3 years after the events of Crazy Rich Asians, the story picks up with the much loved characters from Crazy Rich Asians and introduces some new characters to the mix as Rachel Chu learns more about her mysterious father and a family she didn't know she had.
Rich People Problems by Kevin Kwan – The third and final book in the trilogy… let me admit up front that I stopped reading this one after the first portion. *sigh* I'd read reviews that the second and third books in the trilogy were not as entertaining and sadly, I'm finding that to be true. I'm sure I'll finish it at some point – but for this month, I hit pause on book three.
The Drums of Autumn by Diana Gabaldon – The fourth book in the Outlander series, this is what I decided to pick up and re-read before the fourth season of Outlander premieres in November.
Books on the Shelf
I don't have any new books on my shelf at present…but I would like to get a copy of The Guernsey Literary and Potato Peel Pie Society to read at some point. We shall see…
Must See TV
Sharp Objects – This show is excellently cast with actors who turn in really fantastic performances and the story line and pace manages to leave you feeling both slightly depressed but wanting more.  It follows the book  it was adapted from quite closely but adds in some story elements that give watchers a better portrait of the town of Wind Gap itself…a town steeped in tradition and ritual…that may not always be a good thing.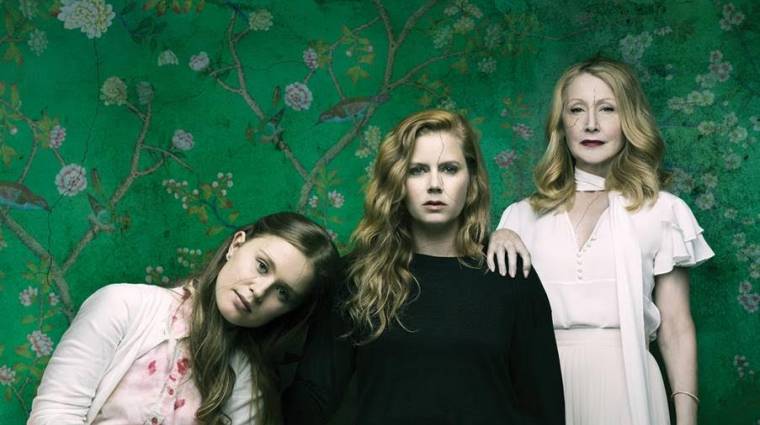 The final episode of the limited series (only 8 episodes) managed to tie things up nicely, even if it did do so in a way that seemed a little bit more hectic than the book. The story's end offers up not one twist but two and you certainly won't see the second one coming until the moment it happens – and then the screen cuts to credits. This engrossing series is definitely worth checking out!
Escape to the Country – Quite possibly my favorite new show! The premise is very House Hunters with a delightfully British spin; families looking for homes in the English countryside are shown three homes, one of which is a "mystery" house and must decide which home is right for them. The show also includes little bits of information here and there about the villages the homes are located in and things that make each location unique.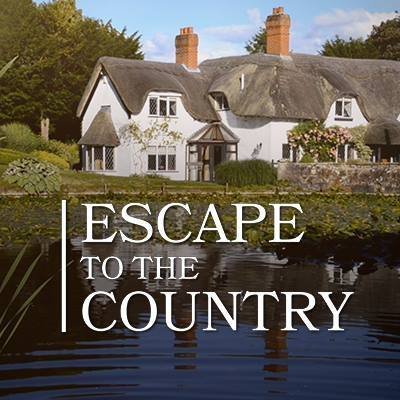 I could not enjoy this show more and I'd move into the house on the picture above – I think it was in Wiltshire? The only down side is that there is only one season (25 episodes) of the show available on Netflix…so I'm trying not to watch them all at once!
Movies of the Month
Christopher Robin – How touching and sweet was this movie? I was never a die hard Winnie the Pooh fan growing up, but I did watch the cartoon series and I know all the words to "Rumbly in my Tumbly"… however, I thoroughly enjoyed this movie. It beautifully relates the theme of an adult who has lost their way as Christopher Robin is reminded – with the help of his favorite furry pals from childhood – that there are things more important than work and toil, like family and fun and spending time with the people you love. Plus – Pooh Bear has some excellent words of wisdom! 😉
The Spy Who Dumped Me – I honestly went into this movie with lowered expectations because I'd read some negative reviews but it was action-packed, hilarious and just a fun way to spend two hours! When Audrey's boyfriend dumps her and is revealed to be a spy, Audrey and her best friend Morgan are pulled into the world of intrigue, mystery and ensuing chaos as they endeavor to deliver a  package from LA to Vienna resulting in hi-jinks along the way. I have not laughed this hard in a movie in so long and I'd see this movie again in a heartbeat – and not just because Sam Heughan is in it – although that is certainly a plus!
The Guernsey Literary & Potato Peel Pie Society – I had seen bits of brief information about this movie but honestly it just came out of nowhere for me and was so perfectly fantastic! The story follows author Juliet Ashton who makes her way to Guernsey to meet with Dawsey Adams and the other members of the Guernsey Literary and Potato Peel Pie Society; a society formed during the German occupation of the island of Guernsey during WWII. Juliet gets to know the members of the society and forms strong bonds with each member as she uncovers the story of one of the missing members, Elizabeth McKenna. The story is beautiful, touching and layered with so many wonderful moments – this movie is on Netflix and y'all – it just cannot be missed! I promise you will not regret watching this wonderful movie.
Crazy Rich Asians – I have been waiting for this movie since earlier this year when a copy of Entertainment Weekly arrived on my doorstep and I realized it was being turned into a movie! This was such a wonderful, funny and just downright enjoyable movie to watch! It reminded me so much of all the wonderful romantic comedies I grew up watching and that today's movie scene seems to be devoid of… The film is a bit different from the book but I loved them both; as they follow Rachel Chu as she heads to Singapore with her boyfriend Nick Young, only to discover once they arrive that he is the only son of one of Singapore's wealthiest families. Rachel is thrown into the mix of the crazy rich Asian society and must find her footing – the casting is spot on and the movie is just an absolute delight to experience.
Tasty Treats
Tunes & Talking
I honestly listen to so much classical music throughout the work day – it's just the best option for me and I really enjoy it. I have a playlist on Pandora called New Age Instrumental Radio and I love it … it's peaceful and beautiful and I listen to it most often. I've also been listening to a lot of the Outlander soundtrack as well. I haven't stumbled on any new podcasts this month – recommendations are always welcome!
What I'm Looking Forward To
Virginia Scottish Games – This will be the second year in a row we've attended the Virginia Scottish Games and I am so excited! The games celebrate all things Scottish with food, music, a clan parade, Scottish dancing, Scottish games, the list goes on and on… and I can't wait!
Nationals Baseball – My Mom and I are attending the game at Nationals Park on Labor Day and I'm looking forward to it! Certainly the season hasn't been spectacular but I do love watching my Nationals play ball…and you never know what you might see from one game to the next!
Paint Night – My ladies Bible study group (I have two, ha-ha) from my community are doing a paint night and I can't wait! We will be painting an Autumn tree and I do love all things Autumn and I find painting to be so calming and enjoyable. Yahoo for creativity!
Weekend in Williamsburg – We are spending a weekend in Williamsburg in the latter portion of September and I always love spending time adventuring and exploring…even though I've been to Williamsburg multiple times before, there is always something new and different to see!
Game of Thrones in Concert – Oh my goodness! I saw this concert in March of 2017 and it was one of the most amazing concert experiences I've ever had…so to say I cannot wait to experience it again in late September is an understatement. This year I do believe my Mom (who has never watched an episode of Game of Thrones) will be joining me and I think she'll still be enchanted – because it is so absolutely excellent!
Asheville, North Carolina & Chihuly at Biltmore – The last weekend of September will be spent in Asheville to celebrate my upcoming 34th (yikes!) birthday and while I'm excited about the entire weekend as a whole, I am most looking forward to seeing Biltmore! This will be my second time going to Biltmore but this time the house is showcasing glass sculptures by Chihuly and I cannot wait to see them! So – if you've got any dining recommendations for Asheville…hit me up with them in the comments!
**************************************************
So many exciting things in the month of September – I can't wait! August has been fairly relaxed but I love that as summer is bowing out and Autumn is arriving, my calendar is full of wonderful things to see and do! I cannot wait to get September started!