This week has seemed longer than usual – yikes! I think it might have something to do with this being the first full five day week I've worked since the week of December 11-15! I had a four day week the next week, a two day week after that, a three day week after that…then a week off at Disney and a four day week. So yes, I know – lucky me! I haven't worked a full week since mid-December. It definitely has made this week long though!
As always, I'm joining up with two of my favorite bloggers, April at Smidge of This and Christina at Carolina Charm for Five on Friday. If you're a blogger and want to join, just write about five things that are on your mind this Friday and head over to April or Christina's blog and link up!
One. Weekend Plans – First and foremost I need to study! *sigh* I've got a test coming up next Thursday and I've got to hit the books! I don't have any major finite plans beyond going to spend some time with my friend Katie and her precious baby boy, doing some studying and otherwise just being a bum! I'm considering going to catch a movie on Sunday afternoon…but I'm not sure yet. Which brings me to point two…
Two. The Shape of Water – Has anyone seen this movie? If so, what were your thoughts? I'm torn between being intrigued and thinking it will be incredibly weird…but the intrigued part of my brain is winning out. My younger sister and I discussed both going to see it this weekend…but her plans have changed. However, I think if I want to catch it I better get on it – I'm not sure how long it will be out in Northern Virginia…
That creature just looks so much like the…creature from the black lagoon. That movie terrified me as a kid. Yikes! I just can't decide, ha-ha!
Three. Baseball is Coming – I know what you're thinking; I need to calm down. I can't though – because all pitchers and catcher report for Spring Training in just nineteen days! Opening Day is March 29th, which is just over two months away and I can already close my eyes and hear the sounds, smell the smells of the ballpark. I've already got plans for two games and you know there will be many more… take me out to the ball game!
Four. Loungefly for Disney/Star Wars – One of my favorite purchases from our recent trip to Disney is my Star Wars Loungefly satchel purse! I'd been wanting a smaller purse for a couple months but never imagined I'd find it at Disney World (Hollywood Studios to be exact). This bag is small in size but big in space (no pun intended) and holds everything I need. It also has an additional shoulder strap so it can be worn cross body. I am in love with it!
There are numerous other Star Wars themed bags and they also have a Disney line too! The wallet inside my bag is also by Loungefly and is Beauty & the Beast themed, check it out! Loving my new Disney themed goodies!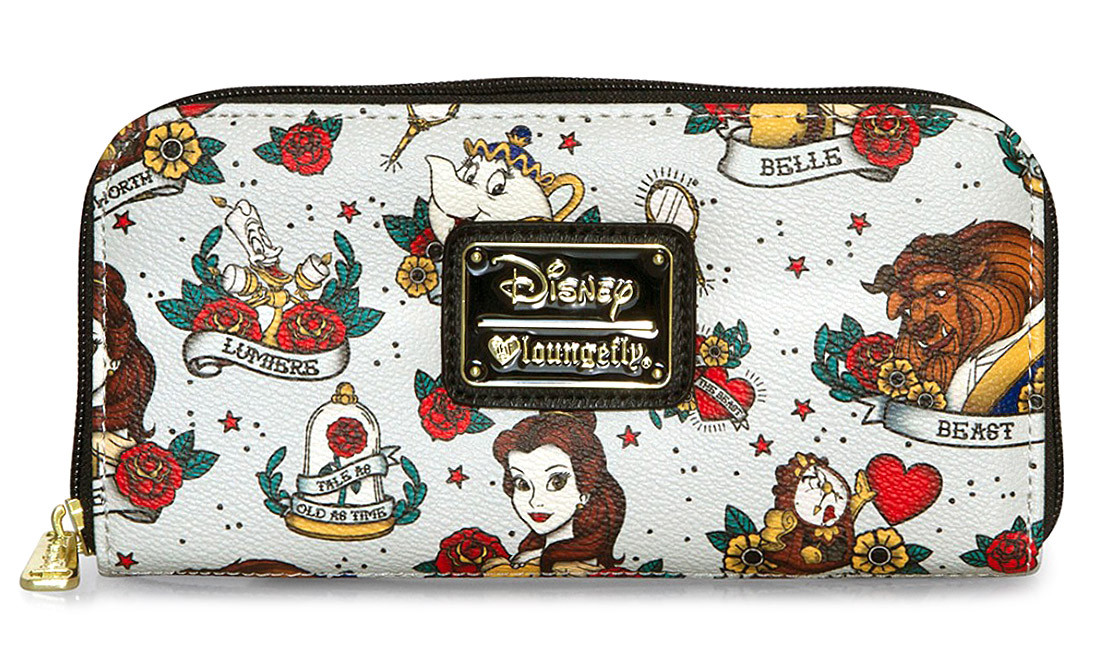 Five. Perfectly Posh Fab & Floral – My beloved Posh is dropping the new Spring catalog and new Spring items TODAY! The theme for Spring 2018 is Fab & Floral and I cannot wait to check out all the new goodies that have been added to the site. If you've ever been intersted in giving Perfectly Posh a try, hop on over to my site (http://NatalieSummerlin.po.sh/) and check out all the wonderful ways to pamper yourself!
That's all I've got for this Friday – I am so looking forward to 5:00 and just being a bum! I think it has something to do with the Winter, but I feel like on weekends in January…and maybe a little bit in February, I just want to snuggle up and be warm, ha-ha! I know that will change once those temperatures change – so until then, I'll be on my couch!