Here we find ourselves – at the end of another year. I can't believe how quickly this year has passed! It's been filled with plenty of good movies, tv shows, books, music and more…so for the final month of the year, read on!
Books I Couldn't Put Down
A Dance of Dragons by George R.R. Martin – The fifth book in the A Song of Ice and Fire series; I am about halfway through this one, I hit pause on it to read some other things. I'm sure I'll pick it back up at some point…only time will tell. It's not like I haven't read it before!
The Princess Diarist by Carrie Fisher – A look behind the scenes of the filming of the original Star Wars trilogy; this book was fascinating because it also gives the reader a good look inside the mind of Carrie Fisher. The book provides a hilarious, juicy and from time to time sad look at how Carrie's life was altered forever when she was cast as Princess Leia.
Elizabeth the Queen: The Life of a Modern Monarch by Sally Bedell Smith – I only just started this book but so far I'm intrigued! It's the most highly recommended biography about Queen Elizabeth II and I can't wait to read more!
Books on the Shelf
My Husband & I: The Inside Story of 70 Years of the Royal Marriage by Ingrid Seward – Another book about QEII; although this one includes Prince Philip as well. This is next on my reading list after finishing Elizabeth the Queen!
And yes…a lot of the books I ordered way back in the summer are still waiting to be read! I'll get to those in 2018!
Must See TV
Outlander – The third season of Outlander ended in mid-December with quite the dramatic final episode. There was mystery, suspense, murder, romance and a hurricane that landed our favorite duo on the shores of Georgia…in the American colonies! I can't wait to see what season four has in store – I think this third season was my favorite so far!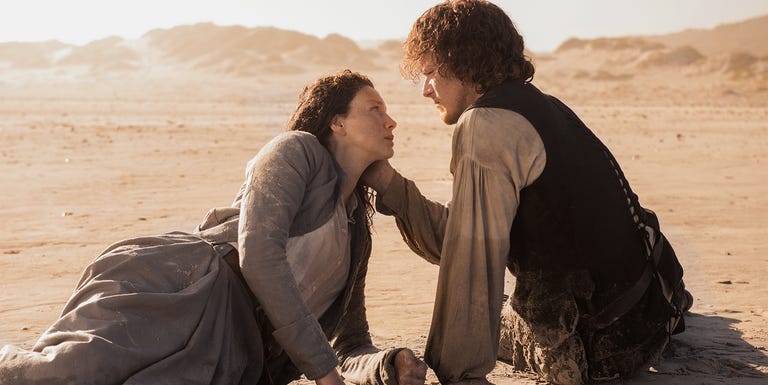 The Crown – What a tremendous "season" of television! I didn't make it through all ten episodes in a weekend like I did season one…it took closer to a week this time, ha-ha! Claire Foy, Matt Smith and Vanessa Kirby are absolutely outstanding and I'll certainly miss their portrayals of Elizabeth, Philip and Margaret going forward – if you aren't watching The Crown, I highly suggest you give it a viewing. You won't regret it!
Gunpowder – The BBC miniseries about the failed gunpowder plot of 1605 that made it's way to HBO the week before Christmas; it provided an interesting look at a moment in British history that I don't know much about…beyond the oft quoted poem. The show was a bit graphic at times – but then, life in England in 1605 was pretty graphic – I altogether really enjoyed this and highly recommend it to anyone interested in English history.
Movies of the Month
Coco – This movie was spectacular! I cannot say enough good things about this movie! I went in with 0 expectations because I honestly wasn't sure what to expect – but the movie is funny with charming characters, wonderful music and some especially touching scenes. I will be purchasing my very own copy when this comes out – it was such a great movie…and the colors…oh my gosh! Go see this if you still have the opportunity!
Star Wars: The Last Jedi – I know a lot of people are very divided on their thoughts about this movie but I loved it! I loved the humor and heart that the film had; Star Wars has always had heart and humor, this film's brand was a bit different – but different isn't always a bad thing. I saw this movie twice and both times enjoyed it so much! And I might have shed a tear or two when Carrie Fisher was honored in the credits… *sigh*
Tasty Treats
Italian food at the start and end of the month, delicious Irish and Cajun fare sprinkled in, a crazy rich cake that I crafted for my Mom's birthday and some divine down home food. December was a month full to the brim with good food – but then, that's nothing new!
And I don't even have pictures of the Christmas Eve brunch goodness and the numerous sweets and savories that were snacked on throughout the Christmas break!
Earworms
All things Christmas music – of course! Especially anything performed by Pentatonix!
I also got very interested in the Renaissance English History Podcast; it is literally a woman talking about Tudor England, anything and everything to do with the period and I find it absolutely fascinating. I've been binging(sp?) (this is not a word – weird) episodes of this all month!
What I'm Looking Forward To
Walt Disney World – I am going to be in the happiest place on Earth in less than a week! Eating at Be Our Guest, riding all my favorite rides, enjoying some glorious 75 degree weather, a Star Wars dessert party…if that isn't something to look forward to, I don't know what is!
I don't have much else on the agenda for January – but I'm sure some thing(s) will pop up here and there. And honestly; isn't a trip to Disney World enough to look forward to? I think so!
That's all for 2017 – and all the things that have kept me entertained – see you back here next year to do it all again!