The real title of this post should be "August – the month wherein everything related back to Game of Thrones…" Honestly; the show comes back on and I end up rereading the books, listening to the soundtrack and devouring podcasts that relate to all things Thrones…
Books I Couldn't Put Down
Game of Thrones: The Enhanced Edition by George R. R. Martin – The enhanced edition; I cannot say enough about this edition of the book(s)! I purchased the first on a whim on my cell phone…yes…my cell phone – and I haven't looked back! The enhanced edition has notes on the character's movements/map location at the start of each chapter, passages that are "important" or "iconic" to the series (think of the conversation between Ned & Cersei where the line "when you play the game of thrones, you win or you die…" is uttered) and notes added into each chapter to tell you anything and everything you could ever wonder about…
A Clash of Kings: The Enhanced Edition by George R. R. Martin – In addition to the above mentioned things that the enhanced edition(s) contain, they also include a breakdown of House Sigils, House Lineage, Maps of each character's journey(s) as the book progress, and maps of the known world where A Song of Ice and Fire is set. I honestly thought I'd struggle to read something on my cellphone (it's an iPhone 6S) but I haven't had any issues!
Books on the Shelf
Remember all the books I bought…and plan to read one day? I still plan to read them one day;  but as is my delightful habit, I've gotten distracted by rereading books I've read before (and loved).
Must See TV
Game of Thrones – Last month the seventh season had just begun…and this month the seventh season bowed out with a mind-blowing finale…but the moment(s) below were still some of my favorites of the entire season! The action (and travel across Westeros) moved at an alarming speed this season; the story is really ramping up towards it's conclusion.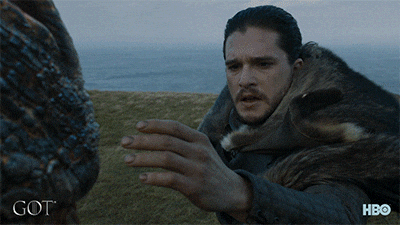 The dragons are bigger, the characters that have been thousands of miles apart are converging and the story lines are beginning to pull together. The best episode of the season was also the shortest – The Spoils of War – and I can't really choose an episode that was the worst, ha-ha! While sometimes it seems that logic is a moot point; the show is still easily the best show on television and it will be a long wait for the final season!
Movies of the Month
I didn't see a single movie the entire month of August – and I myself can't even believe that! There were a couple movies I wanted to see, I just didn't ever get around to getting to the theater to see them…for one reason or another…
Bingeworthy
I am still working on finishing up The Iron Fist; there are so many intriguing things I'm interested in watching…but there's also a lot of life happening that keeps me from sitting indoors watching the TV. And I'm perfectly fine with that!
Tasty Treats
Ma-ka-rohn – Such a splurge purchase; I'd heard of Ma-ka-rohn before but when I saw the Game of Thrones themed macaroons, I jumped right on that! The macaroons were absolutely delicious and I would absolutely order from Ma-ka-rohn again…and again…especially with flavors like Butterfinger, Cookies & Cream, Birthday Cake and Toasted Marshmallow!
Hunter's Head Tavern – Anything and everything that I've eaten (or drank) at Hunter's Head Tavern has been delicious…and my most recent visit was no exception! I always fall for their delicious baked macaroni and cheese and I'm never disappointed! I also grabbed a Blackberry Mojito that was tasty and got to sample a few bites of Grasshopper Pie that was…DIVINE. If you want to check out Hunter's Head – I say do it!
Earworms
Game of Thrones: Season Seven – Another stellar outing from Ramin Djawadi; the music for Game of Thrones is almost as iconic as the show itself and this seventh set of tunes does not disappoint! I've had this on repeat in my car/at my desk since it dropped on iTunes on Friday the 25th… before it came out, I was listening to the soundtracks for the previous seasons.
Podcasts – I spent a lot of this month listening to Storm of Spoilers and Cast of Kings, two Game of Thrones podcasts (shocker…I know). When I'm not listening to those podcasts, I'm also listening to The Popcast with Knox & Jamie and Between Innings with Dan Kolko. All great podcasts!
What I'm Looking Forward To
Autumn – I absolutely and completely love everything to do with Fall. I don't think that I quite have words for how much I love the color, the cooler weather, the clothes, the boots, Pumpkin everything…I could stretch this list on forever. September – December are my favorite parts of every year and Autumn kicks that all off!
Labor Day Weekend – Say the words with me here…a day off work! What's not to love about a long weekend?!?
Tiny House Show – How cool does this sound? I am very much interested in the option of building a tiny house as my home here in Virginia and this is a chance to check out some tiny homes in person! It's in Luray, which is about 45 minutes from my current home and I can't wait to see the wee houses! Granted – I don't think I could do something that's 250 square feet or anything like that…but this gives me a chance to check them out and see!
Outlander Season Three – A blessing from the TV gods; only one weekend between the conclusion of Games of Thrones and the beginning of the third season of Outlander! Outlander is easily right up there with Game of Thrones for me and as a book reader, I can't wait to see how the third book; Voyager, translates to the screen! Sam Heughan and Catriona Balfe play Jamie and Claire to absolute perfection and I'm counting down the days! Only ten!
Nationals Baseball – It's August 31st and with a 15 game lead in the NL East, the Nationals magic number to clinch the NL East Division Title for the second year in a row is 16! Jayson Werth came off the DL on Monday, Trea Turner came off the DL on Tuesday and on Wednesday, Stephen Strasburg threw a complete game shut-out of the Marlins, allowing the Nationals to sweep the series. I can't wait to get back to Nationals Park in mid-September and cheer my Nationals on to another NL East title!
Game of Thrones Brunch – That's right; at the end of the month my friends and I are attending an All-Inclusive Game of Thrones Brunch at a local restaurant called Union Jack. The brunch includes Bloody Mary's, Mimosa and is a three hour themed feast! I can't wait…and I suppose it will help the long wait between seasons?
And that's all for August – can you believe there are only four months left in 2017?!?