One
Nationals Baseball – It's been a week…*sigh* My Nationals are a good team, but they could be a great team if the bullpen could ever get it's act together. At least I was able to commiserate on Thursday night with a Giants fan – I hear their bullpen is just as tragic. The bullpen blew a 4-2 lead over the Cubs on Thursday night…must to the rage and heartache of every Nationals fan watching.
In worse news than the bullpen; the resident speedster, lead off batter and master thief (when it comes to stealing bases) Trea Turner, was hit on the wrist by a pitch…and has a fractured wrist. He'll likely be out 8-10 weeks at best. The season is almost halfway over and the Nationals still maintain a 9.5 game lead in the National League East. Here's hoping the team can adjust and keep winning!
The sidelined speedster in action…
Two
Weekend Plans – I don't have much on the agenda this weekend but one thing I am looking forward to- spending time with my friend Katie! She's coming over Saturday night for dinner! Sometimes we watch a movie but sometimes we just spend all our time chatting and that's wonderful too! If the weather cooperates (not likely) we might even have dinner on the deck! 
This weekend almost feels like it could be a four day weekend – courtesy of the Fourth coming up on Tuesday. My office is closed on Tuesday (of course) and on Monday we only have to work from 8:30-1:00…I work in wealth management and our schedule follows the stock market. So – yahoo for an "almost" four day weekend!
Three
July Fourth – I'll be spending the Fourth at Nationals Park, taking in some of America's favorite pastime on America's birthday! My younger sister and I went last year and it rained…but was still an experience. This year my parents and I are going and the forecast shows hot and sunny – thank goodness our seats are in the shade!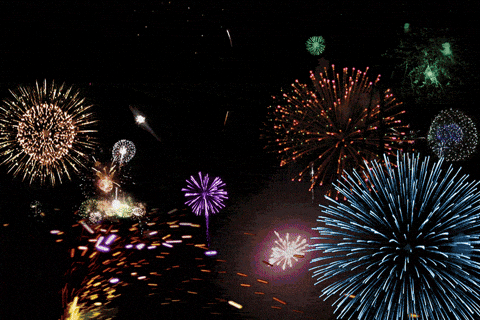 We'll spend the evening of the Fourth at a local fireworks concert and show; likely with some friends, sharing picnic style goodies for our supper before watching the fireworks show! I may be getting ambitious…but I'm going to try to make…
Four
American Flag Cake – Have y'all seen the video for this cake pop "style" American flag cake? I've made red velvet cake balls once before and while it was definitely a time suck, they turned out so tasty! I think I'm going to give this a whirl on Monday afternoon as my contribution to our Fourth of July feast! Wish me luck!
Five
You Have to Laugh – This popped up on Twitter earlier this week and I wondered for a good day or two if it was real. Well, it was confirmed mid-week that this is an actual obituary for a Nationals loving gentleman who passed away in June. I told you – the bullpen is NOT great. *sigh*
Happy Weekend everyone – and if you're lucky – perhaps it's Happy LONG Weekend!