Time marches on…some things change…some things remain the same. I discovered that I've done this post for two of the past three years (not sure what was going on in 2016) and so I'd make a tradition of it and keep this thing going. You can find 2014 and 2015 and below, 2017 – behold, time marching on…counter-clockwise from the left, 2014 – 2017.

What is the last thing you watched on TV?
The last thing I watched on TV was Legion; I was refreshing my brain before watching the new episode. I love Legion…but it can get a bit mind-bendy… A brief synopsis: David Haller is a troubled young man who was diagnosed with schizophrenia as a child. He has been in and out of psychiatric hospitals for years and, now in his early 30's, finds himself institutionalized again. His daily routine — including therapy, taking medications and silently listening to talkative friend Lenny — is upended when troubled new patient Sydney arrives, and they are inexplicably drawn to each other. After a startling encounter between the two, David confronts the possibility that the voices he hears and visions he sees may be real. He escapes from the hospital and seeks refuge with sister Amy, who wants to protect the picture-perfect suburban life she has established for herself. Sydney eventually gets David involved with therapist Melanie Bird and her team of specialists, who open his eyes to a new world of possibilities.
When did you last step outside? What were you doing?
The last time I stepped outside was earlier this afternoon. I was running a quick errand and while it's gorgeous outside…the sunshine is a bit misleading because it's colder than it looks!
What is on the walls of the room you are in?
I'm writing this post from my office and while I don't have a ton of wall space, I've made use of the wall space I have! I keep the Nationals 2017 schedule on my right (only 11 days till Opening Day) with some ticket stubs, photos and miscellaneous goodness from games. I have a Disney calendar because I love my Disney in any form and the images on the calendar are absolutely beautiful. I also keep a canvas of Big Ben alongside snapshots of my sister and I, ticket stubs and travel memorabilia…little reminders of happy memories.
If you became a multi-millionaire overnight, what would you buy?
I don't know if this answer has changed much at all – I'd pay off my student loans (blegh) and travel in style! There are so many places I want to see, so traveling would definitely be at the top of my list! I guess what I'm saying is that I'd buy plenty of first class tickets!
Tell me something about you that most people don't know.
Hmmm…
Who made the last incoming call on your phone?
My lovely little sister – we had a deep chat last night about life, ha-ha!
If you could change something about your home, without worry about expense or mess, what would you do?
This answer hasn't changed – as thankful as I am to finally have my own "space", I am still really looking forward to having my own home again one day. If I could change something about my home without worrying with expenses or mess, I'd build a house for myself! I mean – I'd get someone else to build it – but you get the idea.
What was the last thing you bought?
Tickets to see Celine Dion at the Colosseum at Caesar's Palace in May; I'm going to visit my little sister and even though she's seen Celine twice now…she either loves me that much or Celine is that good…because she's agreed to go a third time! I can't wait!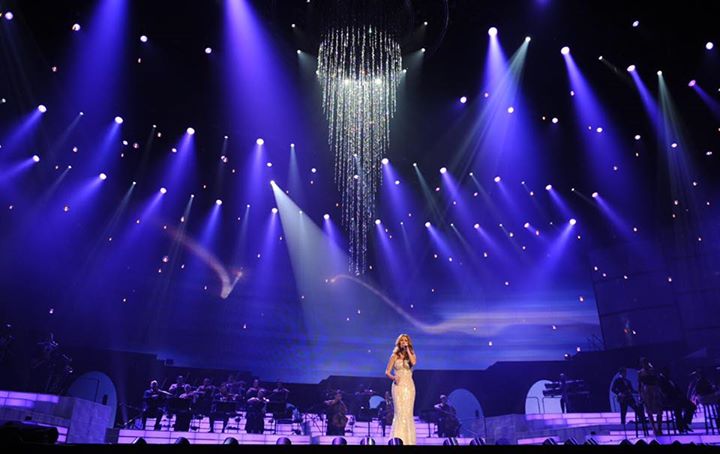 Would you go bungee jumping or sky diving?
NO.
If you could eat lunch with one famous person, who would it be?
Can it be a group of famous people? Can I have lunch with the cast of Beauty & the Beast? I'm kind of in love with the new live action retelling and there's no doubt that a large part of that is thanks to the incredible cast who so wonderfully brought some of my favorite characters to life, preserving the beauty and wonder of the original while telling the tale in a new and wonderful light.
Which store would you choose to max out your credit card?
I'm not 100% sure here…once upon a time I'd have said Old Navy, but now I find myself leaning more toward somewhere like Loft…
Is the glass half empty or half full?
I try to live life with a glass half full perspective…
What's the farthest-away place you've been?
The farthest-away place that I've ever been is jolly London town! I loved every minute of my time in London and I'd hop back across the pond in a heartbeat!
Nothing! Except maybe a dust bunny or two….
What is your favorite time of the day?
I love twilight most, but I really like both the sunset and the sunrise. Transitions between day and night are always pretty captivating…although I'm usually only awake for one of them, ha-ha!
What Inspires You?
I'm inspired by my friends, my family, the places I've been, the music I listen to…the energy of day to day life. I'm inspired by memories I've made and moments that are still to come!
Life – and time – always changing…