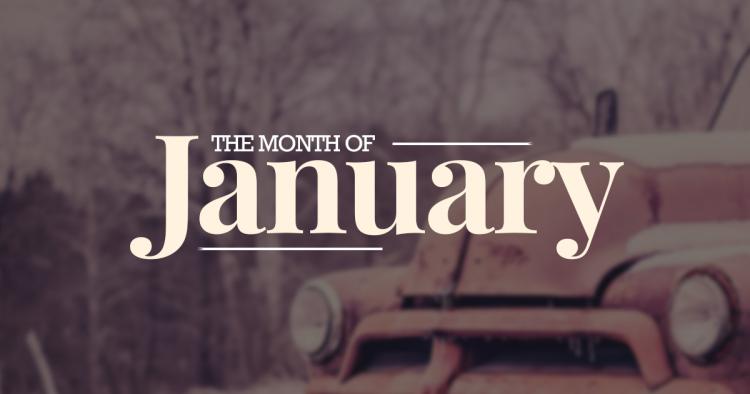 A new year – which means new books to read (new to me at least…) new movies to see, new things to try, places to go and things to do…
Page Turners
Demelza by Winston Graham – The second book in the Poldarks of Cornwall series; I finally finished this book at the start of the month! It wasn't new reading territory as finishing the book only caught me up to the end of the first season of the show. I'm interested to see if the third book (listed below) will pick up right where the show left off and provide the story lines for season two.
Tulip Fever by Deborah Moggach – An excellent book; I picked it up on a whim after seeing the trailer for the upcoming movie and I sped through it in less than a week. The story follows Sophia, the young wife of a much older merchant; the couple live in Amsterdam during the height of Tulipomania. Sophia's husband is desperate for an heir but while they wait for Sophia to become pregnant, he decides to commission a portrait of the two of them. Sophia falls hopelessly in love with the painter and the two scheme and risk on the tulip market to try and find a way to escape and start a new life…
Books on the Shelf
The Nightingale by Kristen Hannah
All the Light We Cannot See by Anthony Doerr
Victoria by Daisy Goodwin
A Cinematic Experience
La La Land – Oh my goodness; I cannot say enough wonderful things about this movie! I absolutely loved it! The storyline was so sweet and wonderful; which I think is especially surprising given the cynical world we live in. Perhaps that's why it resonates with so many people? It's an age old boy meets girl story, but it's punctuated with catchy song and dance numbers and so much of the story feels…innocent? It's like someone's dream(s), put to song and dance and it's not to be missed!
Hidden Figures – Another movie that is a must see! The story of the contribution of these courageous women in the 1960's in the midst of the historic space race and the fact that it's been "hidden" for so long is astounding. Katherine Johnson, Mary Jackson and Dorothy Vaughan contributed immeasurably to history and the story of their lives was absolutely inspiring. I'd also tell you that this movie should not be missed…I'd even tell you to see this movie before you saw La La Land, because history is worth a wee bit more than fantasy!
Must See TV
Sherlock Season Four – Well; I thoroughly enjoyed this final season of Sherlock…if it is the final season, and I so desperately hope not! The fourth series (or season..) was filled with twists and turns and even some drug fueled insanity and hands down had two of the most unsettling villains I've seen on TV in a long time. I've seen so many columns panning this fourth series but I loved every minute of The Six Thatchers, the Lying Detective and The Final Problem and thought Benedict Cumberbatch and Martin Freeman were at their best. Here's hoping in a few years they'll be back for another round!
Bones Season Twelve – The final season of Bones has; so far, been a delightful mix of callbacks from earlier seasons (hello Zack Addy!) and moving the characters toward the end of their stories. I can't believe I've been watching this show for 12 years now! I was a goofy twenty year old college kid when I noticed "Angel" on a new show, I tuned in…and was hooked in almost no time. I have so enjoyed following the tale of Booth and Bones and the entire cast of characters at the Jeffersonian…I can't believe there are only 7 more episodes!
Victoria – What can I say? I love a good show about the Royals and this one is no exception! The show follows Victoria (the name kind of gave it away, huh?) as she becomes Queen of England at the age of 18 and details her life as a young ruler; including meeting and marrying Prince Albert. The show has wonderful costumes and Jenna Coleman seems like the perfect person to play Victoria; I've enjoyed every episode so far!
Binge-worthy
White Collar – I finally finished all six seasons of White Collar and I must say; I loved this show…and the ending! While from the outside it might seem like your same old crime procedural; the characters and the relationships they form are what made the show for me! Tim DeKay and Matt Bomer play off each other so well and each supporting character brings so much to the table. The show is such a fun watch, I really enjoyed it and I'm sad its come to an end!
The Crown – Well; I took binge-watching to a whole new level (for me) with The Crown. I started it on a Thursday night and by Sunday afternoon, I was 100% done. I was drawn in from almost the first few minutes and I have to say that I honestly view Queen Elizabeth and Prince Philip in such a different light after watching this… How does one person balance being a normal person while carrying the burden of "the crown" and what will be sacrificed in the process?
Tasty Treats
Music to My Ears
La La Land Soundtrack – I've been playing this on repeat ever since I saw the movie on January 2nd! The songs and melodies are so catchy and it really just brightens my mood whenever I listen to it! I've long been a fan of a good musical and this modern day version is no exception!
Sherlock Series Four Soundtrack – The theme to the final season; a lot of this music is intense and dark, but there are some more light and playful options too. I love good instrumental music and if a show I watch has tunes that go along with it, you can bet you'll find them on my phone.
What I'm Looking Forward To
I honestly have no clue what to put here – normally there is so much happening from month to move, but right now my calendar for February is just a big blank canvas! I'm hoping to catch up with some sweet friends but beyond that…I guess I'll have to wait and see what February has in store!