Friday is here again – and as such, it's time to link up with some of my favorite bloggers, April and Christina for Five on Friday! Enjoy!
One.
A New Hairdo – I should really have titled this "Something I Can't Recreate on my Own"…but there's no need to be such a defeatist, right? I feel like I always wait too long between visits to my wonderful stylist and friend, Melissa…and then I see pictures of my hair and cringe! I don't *think* I let my hair get to a place where it looked terrible, but gosh I certainly think it looks a thousand times better than it did!
I went a little darker with some lighter pieces blended in at the bottom – it's very subtle and I love it! I think I might stick with this color/style as I'm continuing to grow it out. I really am just in love with the way it looks!
New Hair Selfie…It will never look this good again, ha!
Two.
Pearl Bath Bombs – I stumbled onto this site a few weeks ago and I'm kind of in love! I'm a big fan of being girly and taking a nice long soak in the tub from time to time…it's a nice change of pace and it's also a really nice way to unwind. The bath bombs are a great size, fizz up and have a great scent and while they do turn the bath water colors, the color will not stain your tub! The other perk of these bath bombs? The surprise inside! Each bath bomb contains a pink pearl and inside each pink pearl is a cute ring!
I went with the Mother of Dragons bath bomb because I'm a Game of Thrones nut and the ring inside the bath bomb is modeled after a ring that the Game of Thrones character Daenerys Targaryen wears in the show. The bath bomb was bright blue and green, had a great fruity smell and turned my bath water a pale blue…and the ring, well I'm kind of in love with it! Each pearl also includes a code that you enter on the Pearl Bath Bomb website – you have a chance at winning a ring valued at $100/$1,000/$5,000 but if your code isn't a winner, you will still earn points in your account toward a future purchase.
Check them out here – I think the gift packs would be a great option to purchase and save; you could tuck a bath bomb in with a gift and really add a little something! https://pearlbathbombs.com/
The ring from my Pearl Bath Bomb – I love it!
Three.
Heatwave – The Virginia summer has finally arrived…I suppose I should be thankful it waited until July 2nd to get here, right? As a girl who spent most of my life in Mississippi, I should be used to this kind of heat, but I guess I just got accustomed to not being immediately drenched in sweat the minute I left the house. Funny – huh?
The next few weeks look like they will be blazing…I guess I only have to struggle through it for the rest of July and August; soon enough September will be here and the leaves will start turning. Until then though…I think I'll stick to indoor activities for a little while. The only things that are going to lure me away from the air conditioning are a swimming pool…or…of course, baseball!
Four.
Nationals Baseball – Oh the past two weeks have been (mostly) fun for Nationals fans. The last week of June saw the Nationals sweep the Mets, who were visiting Nationals Park. The biggest take away from the three game series was the Major League premiere of Lucas Giolito…prompting the hashtag #OMGiolito to pop up on Twitter.
Lucas was named the #1 prospect in baseball for 2016 by the MLB and the Nationals are oh so glad to call him ours. He jumped into the rotation while Stephen Strasburg was on the DL and he's going to stick around a little while because as Stephen came back, Joe Ross hopped on the DL for a fifteen day stint… The Nationals won a four game series with the Reds (I attended one of those delightful games) and then struggled a bit more than I'd have liked in a three game set against the Brewers, including the game on July 4th…that I attended with my sister.
The weekend is off to a rocky start after losing to the Mets last night; this is the final four game series before the All Star Break next week. Instead of focusing on the loss, I'll focus on the All Stars – The Nationals have four All Stars this year: Bryce Harper, Daniel Murphy, Wilson Ramos and Stephen Strasburg. Awesome!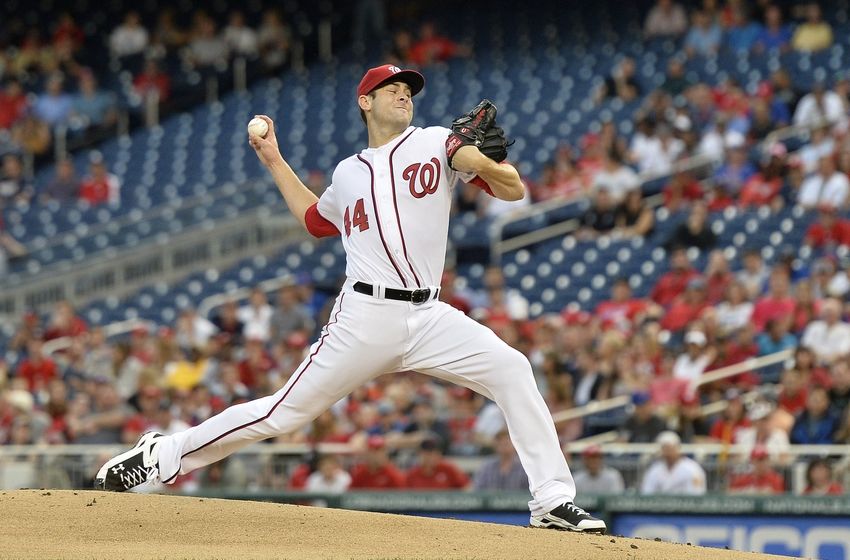 Lucas Giolito in action!
Five.
Aerial Yoga – I touched on this in an earlier post…but my friend Danielle and I have been trying different forms of yoga recently. After our first class and at the urging of the instructor, we signed ourselves up for aerial yoga. If that seems a bit like we were maybe crazy…I'll go ahead and agree with you on that count! However, we siked ourselves up for it, read articles about it on the interwebs and made a last minute dash to Old Navy to grab shirts with sleeves…because you cannot do aerial yoga in a sleeveless shirt…
Y'all…oh y'all. I hung upside down more than once and did all manner of crazy things while suspended from the ceiling. It was like some wild cross between acrobatics and some really strange stretching and the day after, I felt a little bit like I'd been hit by a Mac truck. Whoosh! In my quest for physical fitness, while I think I'd like to continue to try out yoga…I think it might be a little bit before I tackle the aerial form again.
I did this. And I'm sure I looked just as….graceful??
And that's all I've got for this edition of Five on Friday! I hope you enjoyed and if you are a blogger, perhaps you'd like to link up and join the Five on Friday too! I hope you and yours have a wonderful weekend!