One. Holiday weekend. Yes Lord and hallelujah! I was looking forward to a long weekend as it was, but this past week has been a bit more trying…and so I am actively counting down the minutes until 5 PM, going home and enjoying being off until Tuesday! 
Yes Lord. Hallelujah.
Two. Baseball – That's right…it's January and somehow baseball has managed to make it onto my countdown! There are only 33 days until Spring Training starts and that means…spring training games! MASN; the sports channel in Northern Virginia that airs Nationals (and Orioles…oh geez) baseball games throughout baseball season will be airing seven of the Nationals Spring Training games…starting on March 10th! I was thinking I would be waiting until April to see some baseball…turns out I only have to make it 55 more days. Yahoo!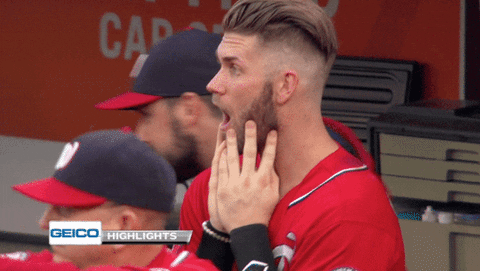 When you realize baseball season is closer than you think…
Three. Snow – It finally snowed here in the mountains (well, technically the valley…) of Northern Virginia on Tuesday evening and while I'm sure it won't be the only time it snows this season, I think I've decided that if it is – I'm completely fine with that. Snow is pretty and lovely and makes things look slightly enchanted; until you have to drive in it, ha! I'm sure we haven't seen the last of the fluffy white stuff; it is only January 15th after all, but I guess what this all amounts to is to say that I'll be looking forward to (and hoping for) an early Spring. Will you?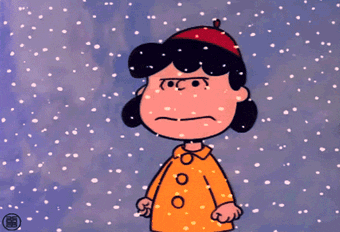 Hehehehe…
Four.
Pure Beech Sheets – I'm pretty sure in the few months I've been doing this, I've already mentioned these sheets once…but they are just that amazing! I purchased a set of the jersey blend sheets way back in October and decided that I can't use any sheets but these forever more. Ha! I found mine at Bed, Bath & Beyond and I always use my 20% coupon because they are a wee bit pricey. Having said that – I am absolutely in love with my sheets…so much so that I grabbed one more set after Christmas in a dark purple color. They are really the best sheets in the world.
Get some Pure Beech sheets…you'll be like…oh yea….
Five. Fitness Friday – Well, I started back with my fitness plan on Monday night. This time I decided to actually record my starting weight when I started…not wait until I've been at it for 4 or 5 weeks and then check that out. I can't say this week went well. I was really committed on Monday night (aren't you always so committed when you start something) and was on the elliptical for close to 40 minutes. Tuesday night was not as intense, but I still managed a good 25 minutes. I was planning to use Wednesday as my off day any way…but Wednesday and Thursday were not good days for me…so yesterday when I got home; although I'd planned to start supper, exercise and be done in time to finish supper…I started supper and then just sat. 
I'm still committed to my fitness in this new year and continuing what I started way back last July, so I plan to keep on keeping on. That being said, I'm definitely looking forward to the Spring when the sun sticks around a little longer and I can pound the pavement as opposed to using a machine!
And…that's all I've got for this Friday! If you'd like to share your Five on Friday, just borrow the button at the top, make your list and be sure to link your post with one of the girls listed on the button! I hope everyone has a good Friday and a wonderful long weekend!